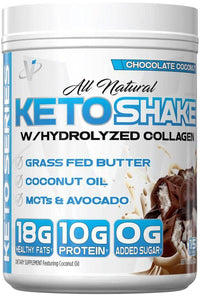 VMI Sports Keto Shake 15 servings
VMI Sports Keto Shake 15 servings  
Keto Shake is a convenient, great-tasting ketogenic meal replacement shake, ideal for those on a low-carb/high-fat (LCHF) or ketogenic diet. Every serving of Keto Shake supplies 18 grams of healthy fat from coconut oil, MCT oil, avocado, flaxseed, and grass-fed butter to help keep you full and help support weight loss. We've also included up to 12g of protein from hydrolyzed collagen, to further enhance satiety as well as help to promote skin health and joint integrity.
18g Healthy Fats
10-12g Hydrolyzed Bovine Collagen
Supplement Facts
Serving Size: 2 Scoops
Servings Per Container: 15
Calories 230
Total Fat 18g
Saturated Fat 16g
Trans Fat 0g
Polyunsaturated Fat 1g
Monounsaturated Fat 1g
Sodium 150mg
Potassium 30mg
Total Carbohydrate 3g
Dietary Fiber 0g
Sugars 3g
Protein 10g
Other Ingredients: Coconut Oil Creamer, Hydrolyzed Bovine Collagen, Premium Spray Dried Gum Arabic, Cocoa Powder, Natural Flavors, Xanthan Gum, Himalayan Pink Salt, Silicon Dioxide, Stevia, Flax Seed Powder, MCT Oil Powder, Avocado Powder, Grass-Fed Butter Powder, Monk Fruit.