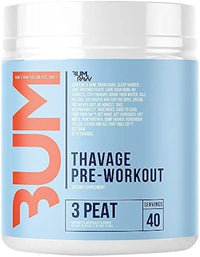 Raw Nutrition Thavage Pre
Raw Nutrition Thavage Pre is not your run-of-the-mill pre-workout. It was designed by thavages for thavages to take your performance to the next level. Our formula has been engineered with some of the market's best and most trusted ingredients like L-Tyrosine, Beta Alanine, Nitrosigine (Inositol-Enhanced Bonded Arginine Silicate), Huperzine A, Alpha GPC, and Bitter Orange. These ingredients aid in improved cellular hydration, mental focus and energy, blood flow, and fat burning.

Chris Bumstead personally designed Thavage Pre-workout's flavoring system to create a top-of-the-line product with industry-leading taste profiles.

Supplement Facts
Serving Size: 1 Scoop/ 2 Scoops
Servings Per Container: 40

Calories 5/10
Total Carbohydrate 1g/2g
Vitamin C (as Ascorbic Acid) 125mg/250mg
Vitamin B6 (as Pyridoxal-5 Phosphate) 5mg/10mg
Vitamin B12 (as Cyanocobalamin) 50mcg/100mcg
Sodium (as Himnalayan Pink Sea Salt) 100mg/200mg
Potassium (as Potassium Chloride) 75mg/150mg
L-Citrulline 3000mg/6000mg
Beta Alanine 1600mg/3200mg
Betaine Anhydrous 1250mg/2500mg
L-Tyrosine 1000mg/2000mg
Taurine 1000mg/2000mg
Arginine NItrate (NO3-T) 1000mg/2000mg
Agmatine Sulfate 500mg/1000mg
Coconut Fruit Water Powder 250mg/500mg
Alpha-GCP (Alpha-Glyceryl Phosphoryl Choline 50%) 200mg/400mg
Caffeine Anhydrous 130mg/260mg
L-theanine 75mg/150mg
Bitter Orange (Citrus aurantium) Fruit Extract (6% Synephrine) 50mg/100mg
Di-Caffeine Malate (delivering 22.5mg Caffeine) 32mg/64mg
AstraGin (Astragalus membranaceus & Pana notoginseng) Root extracts 12.5mg/25mg
Huperzine A (H. serrata)(whole herb) Extract 50mcg/100mcg

Other Ingredients: Citric Acid, Natural and Artificial Flavors, Malic Acid, Calcium Silicate, Silicon Dioxide, Sucralose, Acesulfame Potassium, Beet Root Powder (color).