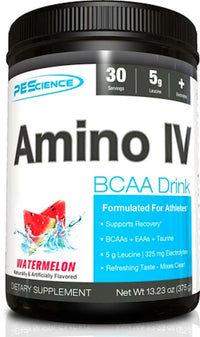 PEScience Amino IV 30 Servings
PEScience Amino IV 30 Servings
Leucine Loaded - The King BCAA
How much leucine does your amino product contain?
Amino IV packs 5 grams of leucine per serving, putting it in the top 1% of amino acid products on the market. In fact, you would have to double-dose most BCAA/Amino products in order to get the same leucine content.
Supplement Facts
30 Servings
Serving Size: 2 Scoops (12.5g)
Servings Per Container: 30 Servings
Amount Per Serving Amt %DV
Calcium (from Calcium Phosphate) 100mg 10%
Sodium (from Sodium Citrate) 75mg 3%
Potassium (from Potassium Citrate) 150mg 5%
L-Leucine (Fermented, Instantized) 5g†
Amino Ancillary Blend 3g†
Taurine, L-Threonine, L-Lysine, L-Valine, L-Isoleucine, L-Phenylalanine, L-Histidine, L-Methionine †

* % Daily Value is based on a 2,000 calorie diet. Your daily values may be higher or lower based on your calorie needs.

† Daily Value (DV) not established.
Other Ingredients: Natural and Artificial Flavors, Citric Acid, Malic Acid, Sucralose.