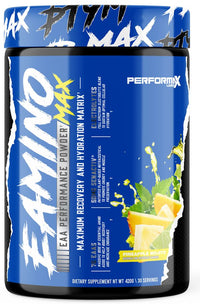 Performax Labs EAminoMax 30 Servings
EAminoMax contains all 9 of the essential amino acids, including 3 grams of leucine. EAminoMax is much more than just an EAA supplement with 2 open-label blends to optimize performance and hydration. 
Supplement Facts
Serving Size: 1 Scoop
Servings Per Container: 30
Amount Per Container % DV
Sodium (from Pink Himalayan Sea Salt) 100mg 4%
Potassium (from Potassium Chloride) 65mg 1%
BCAA & EAA Blend
L-Leucine: 3000mg
L-Isoleucine: 1000mg
L-Valine: 1000mg
L-Lysine: 750mg
L-Phenylalanine: 500mg
L-Threonine: 500mg
L-Tryptophan: 150mg
L-Histidine: 50mg
L-Methionine: 50mg
SenActiv (Panaz notginsent (root) extract, Rosa eoxburhii (fruit) extract
Recovery and Performance
L-alanyl L-Glutamine 2000mg *
Taurine 2000mg *
Hydration Complex
Raw Coconut (cocos nucifera) Water Powder 1000mg *
Pink Himalayan Sea Salth 250mg *
Potassium Chloride: 125mg *

Other Ingredients: Citric Acid, Natural & Artificial Flavors, Sucralose, Acesulfame Potassium, Red #40.