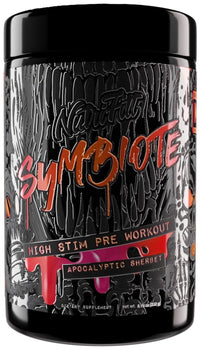 NutriFitt Symbiote Extreme Pre-Workout
NutriFitt Symbiote Extreme Pre-Workout
WARNING: NOT FOR THE MEEK.
NutriFitt Symbiote was created in the depths of darkness for the most intense beings on the planet. Emerging as the most superior mental and physically stimulating extreme pre-workout we've released to date.
Supplement Facts
Servings Size: 1 Scoop (11.6g)
Servings Per Container: 20
Amount Per Serving %DV
Niacin (as Nicotinic Acid) 25mg NE 156%
Choline (as Choline L+Bitartrate) 205mg 37%
Beta Alanine 4000mg
Betaine Anhydrous 2000mg
L-Tyrodine 1000mg 
Choline L+Bitartrate 500mg
Caffeine Anhydrou 400mg
DMAE (Dimethylaminorthanol) 350mg
2-Aminoisoheptane 200mg
Eria Jarensis Extract (N-Phenethyl Dimethylamine) 200mg
Halostachine HCI (N-Methylphenylethanolamine) 75mg
Synephrine HCI 50mg
Noopept (N-Phenylacetyl-L-Prolylglycine Ethyl Ester) 20mg
BioPerine Black Pepper (Piper nigrum) [Fruit] 5mg
Extract Std. to 95% Piperine)
Yohimbe (Pausinystalia johimbe) [Root Bark] Extract 3mg
Rauwoltia (Rauwolfia vomitoria) [Leaf] Extract 1mg
(Std. for 90% Rauwolcine)
Daily Value (DV) not established
Other Ingredients: Malice Acid, Natural and Artificial Flavors, Silicon Dioxide, Sucralose, Acesulfame Potassium. 
This product has been manufactured in a facility that also processes milk, eggs, fish, shellfish tree nuts, peanuts, wheat, and soy
CAPROP 65 Warning: This product may expose you to chemicals including lead known to the State of California to cause cancer and both defects or other reproductive harm.
For more information, go to www.P65warning.ca.gov