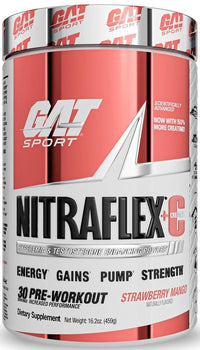 GAT Sport Nitraflex+Creatine
GAT Sport Nitraflex+Creatine
NITRAFLEX+ Creatine pre-training formula contains ingredients that may help advanced athletes maximize energy, intensity, vascularity, and reactive hyperemia (pumps) during their workouts.
Highly Concentrated 3X Strength
Seething intensity Nitraflex +C now delivers newly added Nitrosigine to the mix, providing even more pure Citrulline to the formula and 150% more creatine than before. This combination dramatically increases Pumps while turning up the Energy, Focus, and Flavor to maximize your workout each and every time. You can feel the power surging within minutes from 1 scoop* and increase free testosterone up to 29%*. It's the strongest and best-tasting NITRAFLEX +C yet!†
Supplement Facts
Serving Size: 15.3 g (approx. 1 scoop)
Servings Per Container: 30
Amount Per Serving % DV *
Nitraflex Proprieceutical Blend 6521mg
L-Citrulline, Arginine Silicate Inositol (as Nitrosigine) Resveratrol, Pterostilbene
Acute Energy, Focus, Intensity, Neuromodulating, Endurance Complex
Beta-Alanine, Tyrosine, Caffeine Anhydrous, DMAE (Dimethylaminoethanol Bitartrate)Theanine, Rauwolfia Vomitoria Root Extract
Clinically-Studied Testosterone-Enhancing Complex
Boron Citrate (std. min.55 Boron) 200mg *
Creatine Monohydrate 5000mg
Other Ingredients: Citric Acid, Malic Acid, Silicon, Calcium Silicate, Sodium Bicarbonate, Sucralose, Natural and Artificial Flavors, Natural Sweetener Blend (Erythritol, Oligosaccharides, Natural Flavors.
Note:
One serving contains 325mg of Caffeine Anhydrous