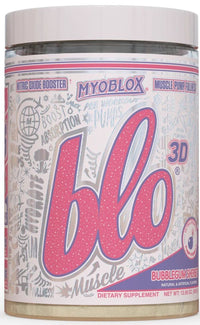 MyoBlox Blo 25 servings
BLO is our NEW & best non-stimulant pump pre-workout formula yet! It is straightforward, fully disclosed formula and is only made with scientifically validated ingredients in clinical doses... IN JUST 1 SCOOP!

BLO is designed to induce mind-blowing pumps, vascularity and circulate more nutrients for enhanced recovery and gains. BLO also does not contain caffeine or any stimulants! Simply put, if you want all of the muscle pump benefits of a pre-workout but do not want the caffeine or additional stimulants, then this is EXACTLY what you have been waiting for.
Shirt Splitting Pumps
Promotes Strength & Endurance

Promotes Vascularity & Muscle Fullness
Enhanced Nutrient Absorption
Stimulant Free Formula
You may take BLO as a standalone pre-workout or even stack with LOCO if desired!

Supplement Facts
Serving Size: 1 Scoop (15.9g)
Servings Per Container: Approximately 25 Scoops
BLO Matrix
L-Citrulline (Fermented 6,000mg **
Betaine Anhydrous 2,500mg **
L-Taurine 2,000mg **
L-Ornithine 2,000mg **
Pine Bark (pinus Pinaster)(95% Proanthocyanidins) Extract (Organic) 250mg **
Astragin (from Astragalus Membranaceus and Panax Notoginsend) Root Extract 50mg **
*Percent Daily Values are based on a 2,000 calorie diet.
*Daily Values Not Established

Other Ingredients: Natural & Artificial Flavoring, Citric Acid, Malic Acid, Silicon Dioxide, Calcium Silicate, Sucralose, Acesulfame Potassium, Beet Juice Powder (color).