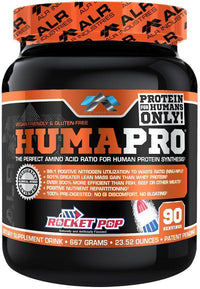 ALRI (ALR Industries) HumaPro 90 servings
ALRI (ALR Industries) HumaPro 90 servings 
No other protein supplement or bcaa / amino acid supplement compares to the power of Humapro. Period. This is the most revolutionary supplement on the market today. Whether you are bulking or cutting, this is the perfect supplement to add to your stash!
Each gram of Humapro is equal to nearly 6 grams of whey protein isolate. Yes...6 grams! No other supplement out there can say that. You can take this product pre-workout, intra workout, and post-workout...you get benefits across the board.  
Supplement Facts
Serving Size 1 Scoop
Servings Per Container 90
Amount Per Serving
Extended Time Release Proprietary Anti-Catabolic and Insulingenic Matrix 210 mg
Proprietary Matrix 5 g
Bitter Melon Fractional Extract, Coffee Bean Concentrate Vitamin & Mineral NNU Co-Factors. Vitamin B-1 .7mg (50%), Vitamin B-3 9mg (50%), Vitamin B-6 1mg (50%), Vitamin B-12 1.5mcg (75%), Magnesium Citrate 87.5mg (50%), Calcium Carbonate 175mg (17.5%), Zinc Glucanate 3.75mg (25%).
Proprietary Matrix
L-Leucine, L-Valine, L-Isoleucine, L-Lysine, L-Phenylalanine, L-Threonine, L-Mathion, L-Tryptophan, L-Tyrosine, L-Cystine, L-Leucine Malate.
Ingredients: Other Ingredients: Sucralose, malic acid, acesulfame potassium, maltodextrin, gum acacia, natural flavor, silicon dioxide (as anti-caking agent).