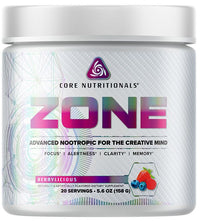 Core Nutritionals Zone 20 servings
ADVANCED NOOTROPIC FOR THE CREATIVE MIND
Focus. Alertness
Clarity. Memory
Naturally & Artificially Flavored Dietary Supplement
Core ZONE Is The Ultimate Dietary Supplement For Brain Health And Mental Acuity.
Supplement Facts
Serving Size 1 Scoop
Servings Per Container 20

Amount Per Serving % Daily Value*
Vitamin B1 (Thiamin) 1.2 mg100%
Taurine 1000 mg-
L-Tyrosine 1000 mg-
Vitamin B3 (Niacin) 16 mg100%
Vitamin B2 (Riboflavin) 1.3 mg100%
Acetyl-L-Carnitine 1000 mg-
Caffeine Anhydrous 150 mg-
Vitamin B12 (Methylcobalamin) 100 mcg4166%
Vitamin B5 (Pantothenic Acid) 5 mg100%
Bacopa Monnieri Extract (50% Bacosides) 300 mg-
Neurofactor (whole coffee(Coffea arabica) fruit extract) 100 mg-
Vitamin B6 (Pyrdoxine HCl) 100 mg5882%
Citicoline (Cytidine-5'-diphosphocholine) 500 mg-
Huperzia serrata Extract (leaf and stem) (1% Huperzine A) 20 mg-
Mucuna Pruriens Extract (seed) (50% L-dopa) 500 mg-
Pregnenalone 10 mg-

Other Ingredients: Natural And Artificial Flavors, Citric Acid, Silicon Dioxide, Sucralose, Acesulfame Potassium.