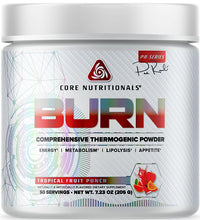 Core Nutritionals Burn Thermogenic Powder
Core Nutritionals Burn is presented as an advanced thermogenic powder designed for weight management.
Let's break down the key components and their claims:
Zum XR (Delayed-release caffeine): This is likely a form of caffeine that is designed to release slowly over time, providing sustained energy without the quick spike and crash associated with traditional caffeine sources.
KSM-66 (Patented Ashwagandha extract): Ashwagandha is an adaptogenic herb that has been traditionally used in Ayurvedic medicine. KSM-66 is a specific patented form of Ashwagandha. Burn claims that reducing cortisol levels may play a role in managing stress, as cortisol is a hormone released in response to stress.
SaffSerrene: This ingredient seems to have dual benefits. It claims to support mental health and mood balance, which might be linked to its potential to reduce cortisol levels. Additionally, it's mentioned to suppress appetite, which could be beneficial for weight management.
Burn claims to address various metabolic pathways involved in the creation and deposition of adipose (fat) tissue. This holistic approach is presented as a departure from traditional thermogenic supplements that may focus solely on stimulation.
The combination of Zum XR, KSM-66, and SaffSerrene is highlighted as providing comprehensive support for weight management. The slow-release caffeine is likely intended to provide sustained energy throughout the day, while KSM-66 and SaffSerrene address stress-related factors that can contribute to weight gain.
Supplement Facts
Serving Size 1 scoop (4.1g)
Serving Per Container: 50
Calories 5
Total Carbohydrate 1g
N-Acetyl L-Carnitine HCI 500mg
KSM-66 Full-Spectrum Ashwagandha Extract (Withania somnifera) (root) (5% withanolides) 300mg
Garcinia cam/Jogia Extract (fruit rind) (60% hydroxy citric acid) 250mg
Green Coffee Bean Extract (Coffea arabica)(50%chlorogenic acid) 250mg
Cocoa Seed Extract (Theobroma cacao) (seed) (20% theobromine) 200mg
Caffeine anhydrous 150mg
Bacopa Monnieri Extract (whole plant) (50% bacosides) 100mg
ziimXR XR Caffeine (provides 50mg caffeine) 70mg
Laminaria japonica Extract (whole plant) (10% Fucoxanthin) 50mg
Saffron Extract (Crocus sativus L.) (stigma) (SaffSerene®) 15mg

Other Ingredients - Citric Acid, Natural and Artificial Flavours, Malic Acid, Sucralose, Silicon Dioxide, Calcium Silicate, Acesulfame Potassium.
Allergen Warning-Contains milk. Manufactured in a facility that also processes ingredients containing milk, eggs, fish, shellfish, tree nuts, peanuts, wheat, sesame, and soy.