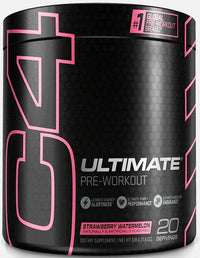 Cellucor C4 Ultimate 20 serving
Cellucor C4 Ultimate, a pre-workout supplement. C4 Ultimate is part of the C4 family, known for its pre-workout formulations.
Here's a breakdown of the claims and benefits:
Duration in the Market: The C4 family has been in the market for over a decade, indicating a history and reputation in the fitness and supplement industry.
C4 Ultimate: Described as the strongest pre-workout in the C4 lineup, C4 Ultimate is formulated to provide lasting energy, pumps, and muscular endurance. C4 Ultimate is designed to enhance various aspects of your workout performance.
High Stimulant: C4 Ultimate contains ingredients that provide a significant boost in energy. This may be beneficial for individuals looking for an intense energy boost before their workouts.
Supplement Facts
Serving Size: 1 Scoop (16.3g)
Servings Per Container: 20
Amount Per Serving % DV
Calories 5
Total Carbohydrate 1g <1%**
Calcium (as Calcium Silicate) 80mg 6%
C4 Super Citrulline Pump Matrix 6g *
Citrulline 4g *
Citrulline Nitrate (NO3-C) 1g *
Citrulline Malate 1g *
CarnoSyn Beta-Alanine 3.2g *
CON-CRET Creatine HCI 1g *
Creatine Nitrate (NO3-T) 1g *
Taurine 1g *
Caffeine Anhydrous 300mg *
AlphaSize 50% Alpha-Glyceryl Phosphoryl Choline 200mg
Theacrine (as TeaCrine) 62.5mg *
Toothed Clubmoss (Huperzia serrata)(whole plant (std.Huperzine A) 5mg *
Rauwolfia vomitoria root bark extract 1mg *
** Percent Daily Value (%DV) are based on a 2000 calorie diet.
† Daily Value not established.
Other Ingredients: Natural & Artificial Flavors, Calcium Silicate, Silicon Dioxide, Acesulfame Potassium, Sucralose, Citric Acid, Malic Acid, FD&C Blue #1