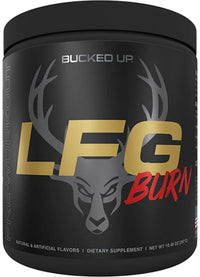 DAS Labs LFG Burn Pre-Workout
LFG Burn Pre-Workout by DAS Labs is positioned as a cutting-edge and innovative product with a specific focus on optimizing fat loss during exercise.

Let's break down some of the claims, key features, and benefits:

Revolutionary Formula: LFG Burn claims to have a science-based formula that includes clinically trademarked ingredients.

Fat Transformation:  LFG Burn claims to transform stored fat into heat for burning calories. This process is often associated with thermogenic ingredients that can enhance the body's ability to burn fat during physical activity.

Clean Energy: LFG Pre-Workout promises to provide clean energy, suggesting that it may contain ingredients that contribute to increased energy levels without the use of potentially harmful substances.

Supplement Facts
Serving Size 1 Scoop(s)
Servings Per Container 30
Amount Per Serving % DV
Sodium 80mg 3%
Beta-Alanine 3200 mg **
Nitrosigine (Inositol-Stabilized Arginine Silicate) 1500 mg **
Caffeine (as Anhydrous Caffeine) 300 mg **
L-BAIBA (B-Aminoisobutyric Acid) 250 mg **
AlphaSize 200 mg **
Mucuna Pruriens Extract 100 mg **
AstraGin 25 mg **
Paradoxine Grains of Paradise extract (seed) 10 mg **
Huperzine A 200 mcg **
** Daily Value (DV) not established.

OTHER INGREDIENTS: Malic Acid , Acid (Citric Acid), Natural Flavors, Silicon Dioxide, Calcium Silicate, Sucralose, Beet Root, Grapefruit Powder