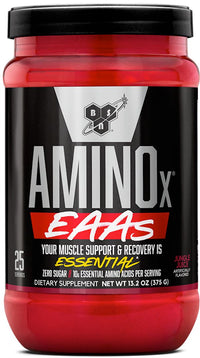 BSN AminoX EAAS 25 servings
9 Essential Amino Acids
10g Essential Amino Acids Per Serving
Non-Caffeinated & Zero Sugar
1:1 Ratio of BCAA's to other Essential Amino Acids
Muscle protein synthesis, recovery, and endurance*
9 Essential amino acids in a 1:1 ratio of BCAAs to other EAAs
AMINOx EAA ratios modeled after the profile of whey protein to support muscle protein synthesis
NO Caffeine or stimulants, perfect for anytime recovery
NEW INNOVATION FROM BSN DELIVERING AN ESSENTIAL RECOVERY EXPERIENCE

Muscle protein synthesis is what everyone is after, and protein synthesis demands the ESSENTIAL amino acids that your body doesn't produce on its own. Muscle protein synthesis is unlocked when you have all 9 essential amino acids. That's why the PhD-accredited scientists on the BSN research team dialed up AMINOx® EAAs with an industrial-strength 10 gram serving of ALL 9 EAAs, giving your muscles even more of what they need.* The result is a precision-engineered formula for muscle protein synthesis, recovery, and endurance*— all with zero caffeine, and zero sugar. Plus, AMINOx® EAAs are available in a variety of exciting flavors. When your goals are performance and recovery, go with AMINOx EAAs.

SUPPLEMENT FACTS
Serving Size 15 g (About 1 Scoop)
Amount Per Serving: 25  %Daily Value
Calories 10
Total Carbohydrates 2 g 1 %†
Total Sugars 0 g **
Includes 0g Added Sugars 0 %†
Sodium 5 mg < 1%
Essential Amino Acids*
BCAAs (2:1:1 Blend)
Leucine 2500 mg **
Isoleucine 1250 mg **
Valine 1250 mg **
Lysine (as L-Lysine Hydrochloride) 1800 mg **
Threonine 1400 mg **
Phenylalanine 600 mg **
Histidine 400 mg **
Methionine 400 mg **
Tryptophan 400 mg **

†Percent Daily Values are based on a 2,000 calorie diet. **Daily Value Not Established.

Other Ingredients: Natural and Artificial Flavor, Malic Acid, Citric Acid, Sucralose, Silicon Dioxide, Calcium Silicate, Acesulfame Potassium, Red 40.
Contains a Bioengineered Food Ingredient.