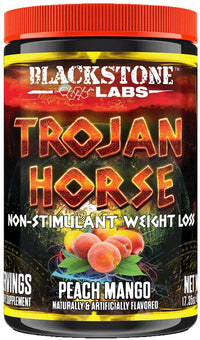 Blackstone Labs Trojan Horse
Blackstone Labs Trojan Horse is marketed as a non-stimulant fat burner designed to help the body utilize fatty acids for energy.

Here are some claims, key features, and benefits:

Non-Stimulant Fat Burner: Trojan Horse is a fat-burning supplement that does not rely on stimulants to achieve its effects. This is in contrast to many other fat burners that contain various stimulants, which can cause side effects like jitters and anxiety.

Fatty Acid Utilization:  Trojan Horse claims to assist the body in using fatty acids for energy. This suggests that it may help the body prioritize burning stored fat for energy, which can be beneficial for weight loss and fat loss goals.

Stackable with Stimulant-Based Fat Burners: It is mentioned that Trojan Horse can be stacked with stimulant-based fat burners. This means it can complement the effects of traditional fat burners that do contain stimulants, potentially offering a more well-rounded approach to fat loss.

Supplement Facts

Serving Size: 1 Rounded Scoop
Servings Per Container: 60

Chromium Picolinate 200mcg
Calcium Pyruvate 4000mg
Garcinia Cambogia Extract (std to 60% Hydroxycitric Acid) 750mg
L-Carnitine-L-Tartrate 500mg

Other Ingredients: Maltodextrin, Citric Acid, Erythritol, Natural and Artificial Flavors, Sucralose, Silicon Dioxide